Collaborative events by ARTISTS AND COMPOSER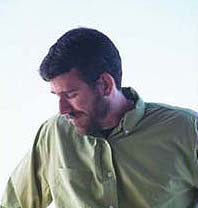 ..........
Piano/keyboardist and composer, J. Fletcher, discovered his Mother's paintings in 1988 as a source of inspiration for his music. He has an uncanny ability
to arrange music into exciting, almost mystical, tonal interpretations of artist's paintings. This has since made him an integral part of the many art openings
at Cara Studios in Barnesville, Ga. and elsewhere in the SE. His music appeals to all ages and is highly complimentary to the two established collaborative
exhibits, "The Messages Within" and " e Fem eral" by artists Cara and Patricia Hankins. His music is available with poetry chapbooks created by Cara as
well. His latest collaboration is "Folded Wings, a journey of the spirit.".

CD's