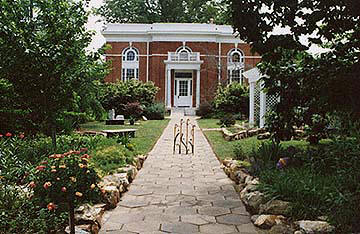 Cara Studios Sculpture Garden
Canons were proudly placed on the lawn and cadets from the old Gordon Academy once lined up for their formal portraits in front of the Carnegie Library. The years passed, the library was sold and the concrete canon bases stood empty. Artist and poet, Cara, had a vision for the library from the moment she laid eyes on the property. Cara restored the 1910 library as her studio and home and then proceeded to create a sculpture garden on the barren property. She hauled in five more concrete boxes for sculptures which are now hidden amongst the lush foliage. Over the years Cara added trees, flowerbeds, garden rooms, a pond, rock garden, patio, fire pit, a gazebo and an herb garden. Cara's beautiful garden retreat. incorporates designs and symbols used in her paintings inspired by her studies of various world cultures and archaeology.
Care gives unique cultural art performances and art exhibits in the library. Groups often combine these events with tours of the garden and historical tours of the beautiful old library. See Tours or Recent Work and Performances on the index page. ...Click on buttons and/or images to advance...